KILLIAN DANES *WELCOME* Willow has been adopted!
Willow has been adopted!! She will be joining the Morris family in July. She will be going to obedience classes and will start in her Junior handling classes with her skin sister Lauren too!
We will miss Willow bunches! Look for her to show in Michigan in the near future!
Thank you for all your inquiries.
New updated puppy pictures on photo page 5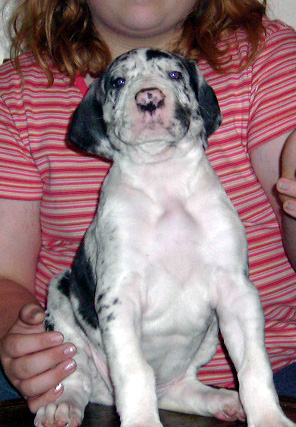 Thank you for all the inquiries on our puppies. All puppies are now in their new homes and doing wonderful. We will not be breeding Jenny again as she had a time of it with this last birth, so she is now our resident couch potato. We have no plans for future litters at this time.
All pets go with spay/neuter contract.
All pet puppies will be on a spay/neuter contract or spayed/neutered before they leave our home. There are NO exceptions!
Our last litter is now 6 months old! Check out photos for updates.